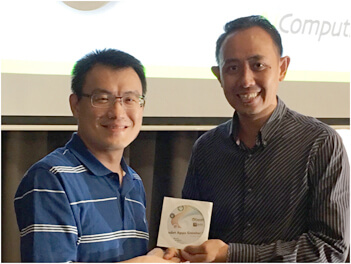 Best Education Method
Smart Apps Creator 3 is one of the best solution for STEM education. It relies heavily on your creativity to design interactivity and app design. Think of a way to trigger an event and cause reactions you want. This unique function gives countless combinations and helps you design almost any kinds of possibilities. Smart Apps Creator 3 allows you to output HTML5 and link jSON format database to your apps. Design app can be a lot more fun and attractive.
Train logical thinking. Build STEM education. Changing contents / ideas to multimedia interactive apps.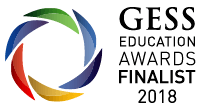 Smart Apps Creator 3 is shortlisted in the Innovation Product Awards – e-learning / Software / Apps category, GESS Dubai Education Awards 2018.





Smart Apps Creator Target Users
Sharing your idea and creativity is the purpose of Smart Apps Creator. Smart Apps Creator can design multimedia interactive apps and helps us spread to GooglePlay / Apple Store. New idea come up in just one second.
Students under K-12 – Smart Apps Creator help them learn art idea, design and publish their own project, works, ads, graduation memory. Even small game can be done on Smart Apps Creator, like whack-a-mole and spot-the-difference.
Students above K-12 and teachers – Teachers can make their own education materials, teach students how multimedia can be applied, stimulate students' creativity. Students can design their own academic materials, powerpoint projects and publish to Apple store and Google Play.
Personal studio – Some of our users bought Smart Apps Creator to develop their own career. Use Smart Apps Creator to explore apps-design business or you can use it to create ads or brochure or flier and put them onto the Apple store or Google Play. If you are already an apps designer, this tool is another choice to illustrate idea to customers.
Artists – Smart Apps Creator help artists create personal profile, their artistic works will be displayed in the form of apps, both on Apple or Android device.
Smart Apps Creator is for:
• Multimedia major student
• Personal Studio
• Enterprise apps / e-Commerce
• Digital media publication
• Web-design / Brochures / Marketing
• Games / e-books
• School apps /Education materials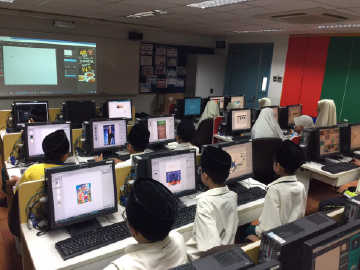 Smart Apps Creator is supported by Taiwan MOE and is introduced into school curriculums. It also gains high attentions from teachers and designers around the world. In the meantime, Smart Apps Creator offers school education site license for ordering. Please do not hesitate to get more information from us. Contact:support_sac@u-smarttech.com
If you want to partner with us, please contact us:
support_sac@u-smarttech.com


Malaysia - Medianetic: http://medianetic.com.my/
Singapore - themediaskool: http://themediaskool.com/
Hong Kong - Intelligent Software: http://i-software.com.hk/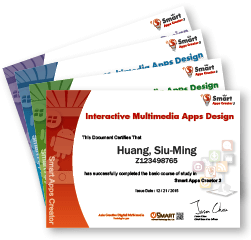 Interactive Multimedia Apps Design Certificate
World's first interactive multimedia app design certificate.
Developer authorized.
Issued by Asia Creative Digital Multimedia Training League.
Online test and operation test.
Teaching and certificate center for seminar/students/teachers.
Best app design certificate for developing skills and careers in mobile generation.

Interactive Multimedia Apps Design Certificate

"Smart Apps Creator is a well-made, easy to use and very intuitive software. Suitable for both young and adult students, with appealing graphics and low price. Suitable for educational and school use. All students are satisfied. They are building their first app and show interest, they are very motivated."-- Mauro D'Andrea, teacher. His school, CPIA Alba-Bra-Mondovì, trains both Italian and foreign adults His students follow a course in Alba (Cuneo), Italy. Alba is a well-known city, famous for its truffles and the wines.

Smart Apps Creator 3 get great response in Worlddidac Asia

On October 10 2017, as software developer, Smart Apps Creator 3 was invited to join Worlddidac Asia education show in Thailand; Worlddidac is one of the biggest education exhibition held in Asia.

Smart Apps Creator 3 was highly acclaimed here by schools, institutions, professors and education product suppliers from over 12 countries; and its box version was sold out in 6 hours.

An Thailand local teacher, Chaiychat Rojponthamon, visited our booth and said: "Smart Apps Creator 3 is the best app design software he had been looking for a long time. Better than MIT App Inventor."

Here, teachers and distributors were impressed by our high quality application and its feature: No advanced programming skill, everyone can do, every walk of life need to do, intuitive UI and its wide range output format: Android/Apple/Windows/Html5.

We were interviewed by Switzerland media. We have Malaysia MOE, school founder, entrepreneur, parents, teachers left their contact and show their interest to Smart Apps Creator 3.

We believe application will be the next generation of website. Everyone need and should know they have the ability to build apps. We believe Smart Apps Creator 3 will still be the best app design software for the next decades.

Smart Apps Creator 3 official website: www.smartappscreator.com